April 30, 2020
In alignment with the national lockdown regulations stipulated by our government, our stores will remain temporarily closed.
We do however have some good news during this uncertain time. We can assist with any urgent and critical eyecare required through selected essential stores. Find out more about opening times and which stores are open on the individual store pages.
Please get in touch at assist@execuspecs.co.za with any emergency queries. Due to the current situation, we've been getting a lot more emails and phone calls than usual. We're really sorry if we're taking a little longer to reply, but the team is working hard to make sure they get back to you as soon as humanly possible.
New in-store safety protocol:
Our top priority is ensuring our customers and staff remain healthy and safe.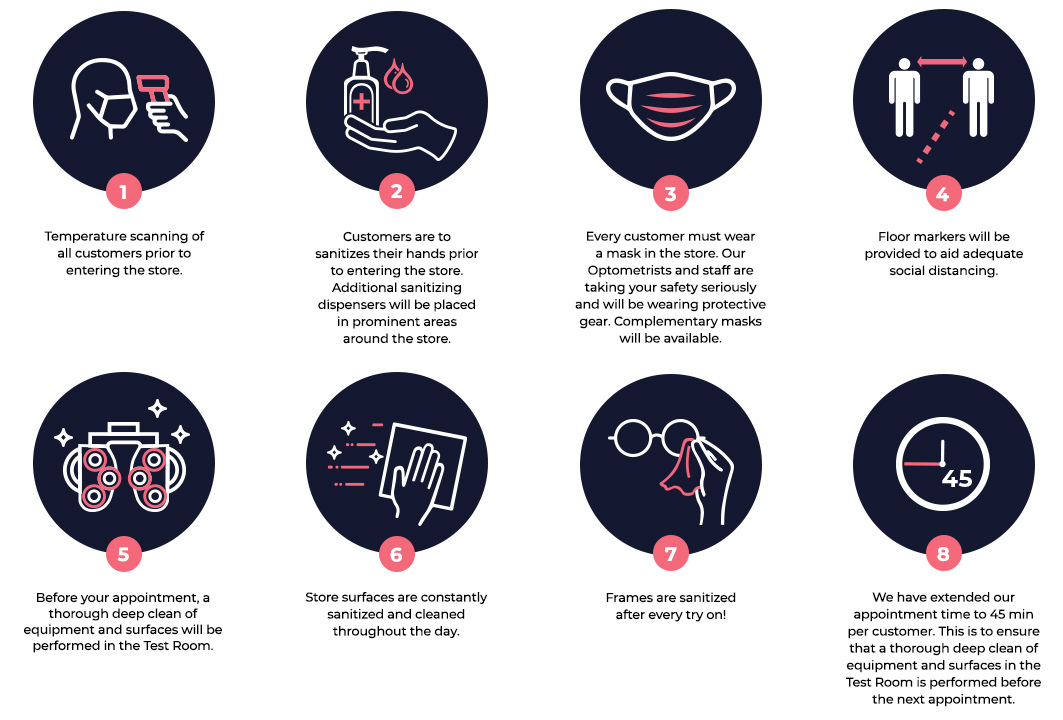 In the interest of the safety of other customers and staff members, we request that if you suffer from any of the below symptoms, please don't come to the store and rather call us to reschedule your appointment:
Dry cough and/or headache and/or flu like symptoms not associated to any other health related illness.
Have contracted COVID-19 in the last 21 days.

Have been in contact with anybody diagnosed with COVID-19 or waiting on test results for a COVID-19 test.
Orders placed before lockdown: We are currently working on getting all the outstanding orders that were placed at our stores, prior to lockdown, delivered straight to your door. Due to the high volume of these orders, we would greatly appreciate your patience with us as we work through this.
We are open online. As always, Execuspecs.co.za remains up and running so you can continue to shop online and try out our frames in your pjs using our Home Try-On service. Our incredible customer service team will answer any questions or queries and assist with your orders as they always have, efficiently and with a smile. If you have any questions, email us on info@execuspecs.co.za.
Please stay tuned as things develop through our social channels — we'll be thinking of ways to keep you positive.
On behalf of our entire team, we would like to take this opportunity to thank you for your continued support and to wish you and your family the best.
We're here for you. Let's continue to #seethegood.