The winter season is upon us and has announced its arrival with icy, low temperatures, and surprising showers. Surprising for 2 reasons – the first is that it never really rains during Southern African winters(or so we thought), the second is because it raises the question;
"What on earth do I wear during a cool, wet, winter?"

At Excecuspecs, we pride ourselves on our fashion prowess and as such have put together a helpful little guide for you on the five winter fashion favourites that never really go out of style.
1. The classic winter coat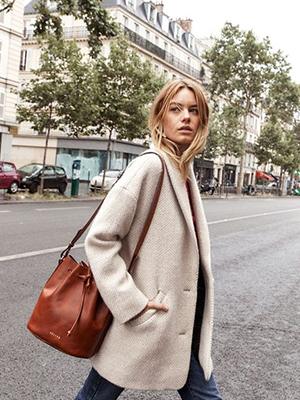 Photo: Pinterest
The first thing you should consider adding to your fashion closet is the classic winter coat (more formally known as; the Chesterfield coat). It adds an effortlessly tailored aesthetic to all your fashion ensembles.
Despite its humble beginnings as sailors outerwear, the Chesterfield coat is set apart from all the other overcoats by its slim, column-like silhouette and blazer-like lapels. So versatile is this coat that it can transform your whole aesthetic before you even say; "I love my Chesterfield".
Pair yours with a plain white tee, jeans and sneakers for a laidback look, or add it over your tailored 3-piece-suite for a bossed-up ensemble that'll keep the compliments rolling in.
Whether you opt for a tan, grey, or camel hue, a mid-length coat will do wonders for taking you from a boardroom meeting to a lunch-time date.
You can thank us later.
2. The cutting-edge ankle boot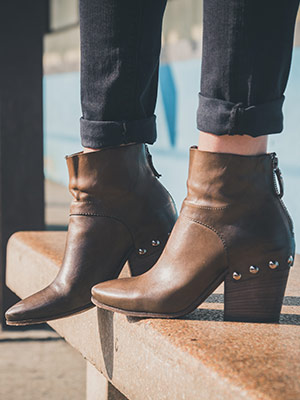 Photo: Pinterest
We aren't exactly sure when this timeless piece made its resurgence into mainstream fashion, but we're certainly glad it did. Whether it comes in the form of patent-black leather or is worn in a more demure block-heeled suede, or classic flat Chelsea silhouette this boot has proven its versatility time and time again. Ankle boots deserve a spot in every closet and will effortlessly transform your look from lockdown drab to street-savvy fab in an instant.
There are many ways to pair this classic, but opt for dark skinny jeans if a taller silhouette is what you're after, and don't forget to create a cool break by rolling them up at the ankles.
Slip on a white button-up and leather jacket for an edgy look and don't forget the aviator sunglasses for an all-season "cool".
So far, so good.
3. The sleek, black polo neck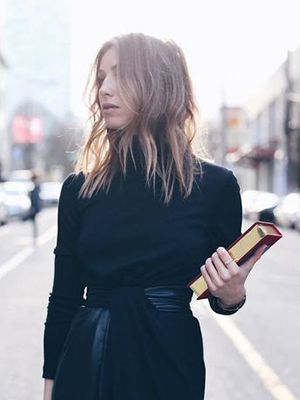 Photo: Pinterest
If ever there were a piece we'd say you absolutely had to get today, we'd make it this one. So versatile is this winter favourite, that it does wonders for both your work wardrobe and play ensembles.

That this seasonal favourite keeps coming back year after year is no surprise to us. Not only is it designed to keep you warm and comfy, but it's super sophisticated, elevating your style effortlessly.

Pair yours with slim-fitted jeans, a tailored blazer and a suede Chelsea boot for a chilled day at the office, or opt for grey sweats, denim jacket, and sneakers for a weekend essential shop run. Ladies, don't forget to add those bold statement earrings. Gents? Try a black-on-black bracelet set to complete the look.

Now you're ready to hit the streets.
4. Flattering slim-cut jeans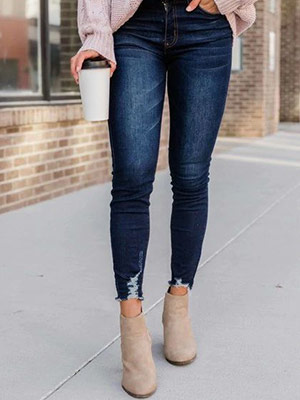 Photo: Pinterest
A wardrobe staple nearing an almost ten-year run, the flattering slim-cut jeans have seen many variations but have stayed a fashion fave for both novices and experts. While the more popularized version of these are the skinny jeans; straighter and looser cuts seem to have overtaken the classic in 2020. Fortunately, it all comes down to styling, so don't throw out your favourite pair just yet, but if you haven't made the purchase yet, here are a few tips to picking out a set that will take you through the next 3 winters(at least):
Stick to dark colours. Not only will this make your legs look leaner, but it will help you look taller as well. These also transition effortlessly from day wear to night ensembles with just the change or a shoe or jacket.

Try a distressed pair – these are for the vintage lover, while you may struggle with getting away with these in a traditional office space; this casual style makes for great streetwear. Pair yours with sneakers and a graphic tee for Saturday strolls on the Promenade, or a collared shirt and grandpa jersey for dinner with friends.
5. A thick, woollen scarf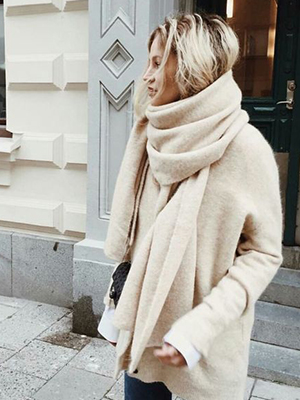 Photo: Pinterest
This is a timeless classic even a fashion novice will agree on. It adds a certain aesthetic to your look, and we find it difficult to picture winter ensembles without it. While we won't bore you with the 20 different ways you could wear yours, we'll leave two tips on how to rock it right.
Keep warm with a chunky knit cozied up to your neck. Fold your favourite scarf in half keeping the loop on one side and pulling the opposite side through the loop. These work best paired with an oversized cable knit sweater, slim-trousers and lace-up brogues.

For a more formal look, opt for a reverse scarf drape. This is a loop around the neck with the scarf crossing in front , leaving the ends to fall behind the shoulders. This is seen with slimmer-fitted outfits like a button-up shirt, slim fitted cardigan, chinos and brogues.
Now that you know the top winter picks that keep coming back year after year, you're safe to hit your favourite online store well equipped with the best fashion advice for your winter closet. Go on, what are you waiting for? If you happen to take some snaps of yourself looking good, don't forget to tag us.


Date Published:

09 July 2020