Choosing the perfect frame may have proven a tougher task than usual over the last few months. We've all been spending most of our days indoors and away from the masses with little to no influence on what the latest trends are or what street style looks like this autumn. Pair that with having very little fashion inspiration to tailor our looks around – No Met Gala or big city fashion weeks – choosing a brand new look you'll be sporting for the better part of the season has proven almost impossible. That's why Execuspecs have created the ideal fail-proof piece on how to choose the right frames for your face shape. That's right, sit back and relax as you scroll through this season's face shape guide, which by the end will have you spoiled for choice and ready to rock your pair of trendy frames, even if their sole purpose is for Social Media flat lays, or lounging around the house fashionably clad in bed-clothes.
Now, before we get started, everyone knows that the secret to a great fit is knowing what your face shape is. While most people may be spatially aware and know exactly what face shape they are, some may not be quite so savvy. Fear not, that's why we've created this guide just for you. As the age-old saying goes – "teach a man to fish and you feed him for a lifetime", in this case, we've altered the saying, changing it to; "teach a person their silhouettes, and they'll be able to choose their perfect glasses forever". We haven't even gotten to the best part yet, which is that you'll also be able to try all of these looks in the comfort of your own home with our "home try-on" option – more on that later though. First, let's get you that perfect fit.
We're pretty certain at this point in your journey you'll be familiar with the five face shapes.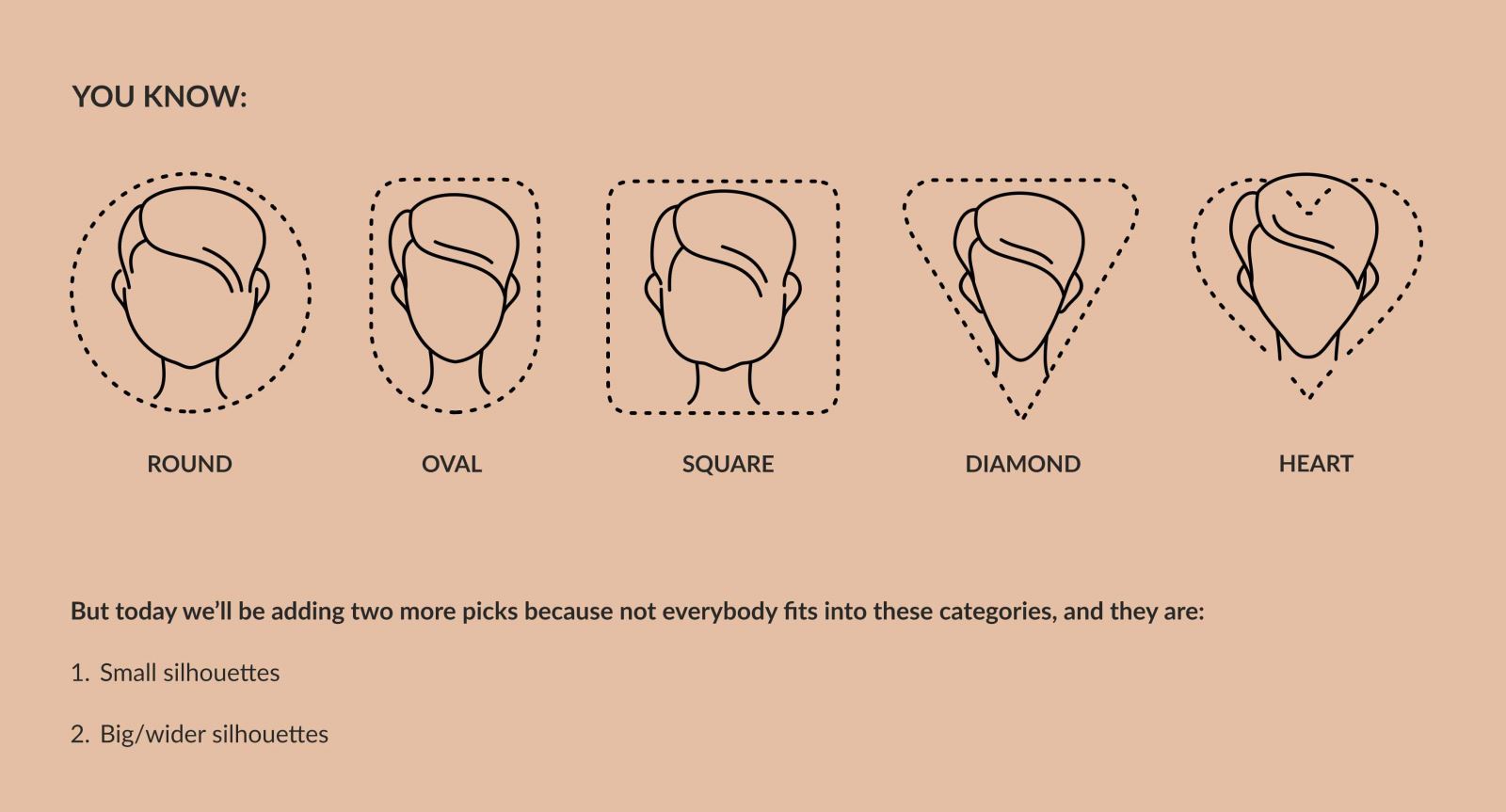 First things, first. How do you know which category you fall under?
This may be the easiest part of the exercise because all you have to do is look in the mirror. Or? Switch on your front-facing camera and take a snap.
Round
This is an easy one to spot. It's characterized by round features and with zero angular points. Your facial lines are also soft and curvy, and your cheeks are fuller.
Oval
If you have a slightly elongated silhouette, with a narrow chin, higher cheekbones, and evenly proportioned, yet soft jawline, you're an oval shape.
Heart-Shaped Faces
If yours is more of a downward-facing triangle, then you have a heart-shaped face. This means you have a wider forehead that narrows down to a pointed chin. You're also generally blessed with high and defined cheekbones.
Square Faces
This means your core features are all aligned, with your jaw, forehead and cheekbones all in line with other facial features and all at the same width apart.
Diamond-Shaped Faces
If yours is a visage with wider cheekbones and a narrower forehead and jawline, then you have a diamond face.
The last two are easier to spot because if you have a small-face silhouette, you'll constantly struggle to find a pair of glasses that fit. Any pairs you may have tried on usually slip right off or completely cover your best features instead of accentuating them. The opposite is true for Wide Silhouettes, most glasses don't fit and when they do they accentuate the wrong features of your face.

Now that you know which face shape you are, let's get moving on securing you some great fits.
The perfect glasses for your round face
When it comes to choosing an ideal pair for your lovely silhouette, we have to begin with where you'd like to draw attention to, and away from. In your case, you're going to want to add defined lines. Think frames with rectangular shapes to add sharpness, and angular frames like cat-eye, wayfarer, and horn-rimmed to add a little contour to your face. Whatever it is you do, avoid round glasses, whether sunglasses or prescription as these tend not to flatter you. Below we have chosen the perfect glasses for your round face for you.
Oval silhouettes get great-looking glasses too
If this is you, you can go ahead and count your lucky stars, as it turns out this is the easiest frame to pair. That's because oval faces look good with just about any eyeglass frame. The most popular are usually oversized and geometric. Think square, rectangular or frames with bright colours, quirky shapes, thick rims and distinct frame shapes, whichever you choose will make a great fit. Try and stay away from small spectacles though, these may leave your face looking unbalanced. Opt for these instead:
Heart-Shaped Faces, here are the perfect fits
When it comes to choosing your ideal pair, be sure to go with a pair that will draw more attention towards the top half of your face as opposed to the bottom, this will create balance and symmetry for you. Opt for rimless glasses, or glasses that are thin, light and soft-edged, these will help you maintain balance. Steer clear of oversized or top-heavy frames as these will draw most attention towards your forehead, making it appear larger. Try these instead:
The ideal frame for Square-Shaped Faces
If yours is a more geometrical shape, you're wanting to go for frames with thinner rims and rounder shapes to soften your edges. These will add a little texture to your silhouette, giving a bit of contrast to highlight your already gorgeous traits. Opt or balance with these:
Glasses for Diamond-Shaped Faces
These silhouettes are best suited with glasses that draw attention to your eyes, eyebrows and forehead allowing you room to flaunt your best asset: your cheekbones! To achieve this opt for rimless glasses, cat-eye silhouettes, or frames that point upwards. Try these on for size:




Smaller Faces:

While we're well aware that this is not a face-shape so to speak, but refers to the size of your face instead, we have catered for you and will be looking at which glasses will suit you best.

If you have a smaller face, the first thing you'll want to do is avoid glasses that will swallow your face and opt for rectangular, oval and cat-eye frames. Thinner rims made of acetate or metal are the most flattering.




Wider Faces:

People with wider faces often face difficulties finding the perfect pair, almost as tough as those with smaller face silhouettes. The trick here is simple: all you have to do is find frames wider, bigger or the same size as your face.

Oversized and thick-rimmed frames are your go-to criteria for picking eyewear


Date Published:

15 May 2020